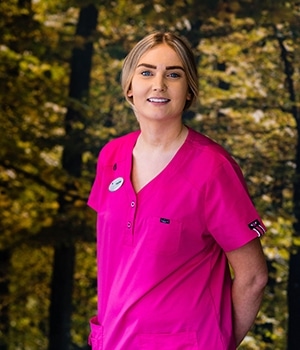 Sophie has recently joined the team at Pure Dental after previously working in the Retail sector and gaining her degree in 2010 at Truro College in Children and Young Peoples Workforce. Sophie is excited to pursue her career in Dental Nursing as she loves caring for patients and building a friendly rapport with them.
Sophie has just flown the nest and bought her own home with her partner bringing along 3 rabbits and 2 guinea pigs! Sophie will often have a 'games night' with friends and it has been great to put her own stamp on our house!
In her spare time she likes to spend time in her garden with the animals or shopping (which she enjoys a little too much!)
Abbie joined Pure Dental in June 2017 as a Trainee Dental Nurse. Before this, she travelled South East Asia for 4 months and lived in the Alps for 6 months.
Abbie has always loved the idea of working as a Dental Nurse so when the job opportunity at Pure Dental came up, she had to apply!
Abbie has definitely found her calling as a Dental Nurse and is excited to learn every aspect of the role with her training.
Outside of work, Abbie spends a lot of time exploring Cornwall with her dogs. She also really enjoys skiing and travelling to new places around the world.