Ceramic Braces - Let's Bring Those Teeth Together
Do you have crooked teeth? Now is the time to get them straightened with invisible braces.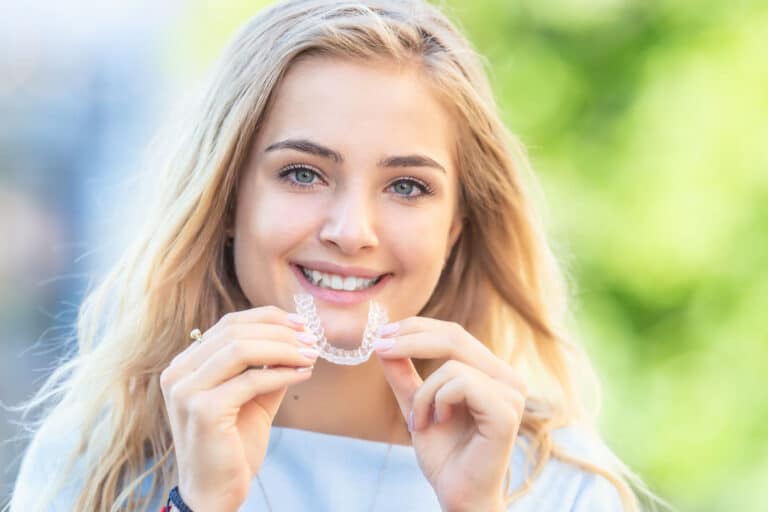 Ceramic Braces - Let's Bring Those Teeth Together
Do you have crooked teeth? Now is the time to get them straightened with invisible braces.
Finance options available. Terms and conditions apply.
Get your perfectly aligned teeth with barely-there brackets!
Ceramic braces are the ideal choice for people wanting to get teeth alignment but prefer to have a discreet set of brackets fitted. Even during treatment, you will never have to be too conscious.
People will hardly notice your braces are there.
The Benefits of Ceramic Braces
Ceramic braces are a good choice if you want barely noticeable braces. This type of fixed braces uses ceramic brackets that can come in different shades of off-white to match the colour of your teeth. Even the wires used can be in lighter shades. When you smile, the braces can hardly be seen at a distance.
The benefits of ceramic braces are as follows:
Less conspicuous and aesthetic design: Ceramic braces are like chameleons that follow the colour and shade of your teeth. They use translucent or similar coloured brackets that will be hardly noticeable from a distance. Even better, wires are also tooth-coloured to give you that aesthetic appeal.
Comfortable fit: Ceramic brackets are customized for each individual and are smaller to fit the backside of the teeth. They do not cause irritation and chafing and provide a comfortable fit.
Less staining: Staining will be less likely because the wires are colourless or white.
They are an alternative to Invisalign: For people who want the discreet design of Invisalign but are not suitable candidates, ceramic braces are an alternative. They work better on teeth with extreme irregularities.
Ask a Pure Dentist for more information on ceramic braces. Schedule a free consultation today.
We are pleased to offer finance options to those who are eligible, alongside our standard pricing structure. We know that your smile is important, so we want you to be able to start your journey as soon as possible.
Are Ceramic Braces For You?
Braces are for everyone, not just for children and teenagers. Even adults who need teeth alignment corrections may have braces fitted.
If your work requires you to engage with people often, this may be the best option for you. In addition, Influencers who want to look good and not draw attention to their braces will benefit from ceramic braces.
Contact a Pure Dentist today to determine if ceramic braces are for you.
Get Fitted with Ceramic Braces by Pure Dentists
Pure Dental Health is a private dental clinic with a team of Pure Dentists ready to help you with teeth alignment solutions.
Request Your Free Smile Evaluation and get a step closer to achieving your picture-perfect smile.
Our Pure Dentists are courteous and will give you an excellent dental experience. What's more, we offer free teeth whitening after your treatment to make sure your aligned teeth are pearly white too!
Our dentists have served many happy clients. Take a look at some of their stories!