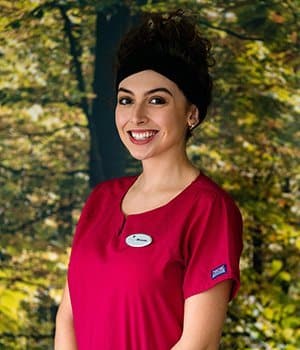 Miranda joined the team in September 2020 as a trainee dental nurse after gaining work experience at a number of local dental practices. From a young age, Miranda has had a keen interest in the dental profession and fondly remembers attending dental appointments with her friends and family, eagerly watching from the corner of the room! She always had a lot of questions for the clinicians and their nurses!
Since joining Team Pure, Miranda has grown in confidence and is working very hard to become a capable and valued member of the team, her enthusiasm and caring nature show the makings for a very successful dental nurse.
Miranda says that she loves seeing the proud smile on a patient's face that they feel confident to show off. She believes that playing a part in changing not only their teeth, but also their view on attending the dentist, is a real positive experience.
Miranda already loves being part of Team Pure and says that all of her colleagues are so welcoming and friendly.
Miranda will be starting her dental nursing course in 2021 and is excited to begin her official course.
Outside of work, Miranda lives with two little curly coated poodles and is a keen singer songwriter, gigging around Cornwall in her spare time.
Joined Pure Dental Health
Joined Pure Dental in 2020 as a trainee dental nurse