After the massive success of our Dream Smile Makeover Competition in 2019 and helping Matt find his smile, we decided to do it all over again.
In December 2019 via our Facebook Fan Page, we announced our Dream Smile Makeover Competition for 2020.
Little did we know what lay ahead only a few months after the announcing the competition winner.
Continue reading to find out what happened!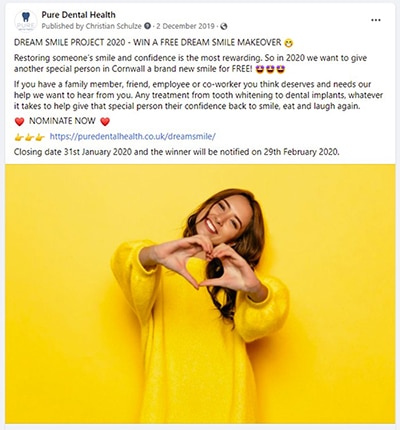 Over 250 people entered our Dream Smile Makeover Competition 2020.
After hours spent by the team reading each competition entrants individual story and their reason for entering the competition, the team eventually managed to whittle it down to seven or eight finalists.
The team found this stage in the competition particularly tough, with so many worthy candidates to choose from, it proved to be a very challenging and difficult task to do!
We eventually made even more tough decisions together, and finally whittled it down to three people as potential winners of Pure Dental Health's Dream Smile Makeover Competition 2020.
When the day arrived to sit down with the finalists and announce the winner, there was a definite air of excitement from the team!
The moment we'd all been waiting for finally arrived. It had been so difficult and emotional for us to select our winner, that we didn't really want to say no to any of the finalists!
So, we didn't!
Julie, Rachael, and Tracy were all nominated to win their Dream Smile by their caring and loving family and friends.
Each of our lovely winners has been through some testing times in life, and despite this, have remained selfless people who routinely put the care of others before themselves.
Although the team at Pure and those closest to our winners could see just how deserving each of them are, our winners couldn't, which made the announcement that they had all won the competition all the more rewarding. It was certainly a huge surprise to them!
Rachael was described as 'the kindest, most incredible lady, who always keeps everyone smiling' by the friend who nominated her.
Rachael is a professional nanny who makes the children she cares for smile every day. As a nanny, her own smile and expressions of joy and happiness are an integral part of her job, and although she doesn't like her teeth and smile, she understands the importance of sharing her smile with the children she cares for.
Because children are so open and honest, Rachael has lost count of the number of times she has been asked what's wrong with her teeth, although she answers the children's questions honestly, it is still embarrassing for her.
Rachael's enamel didn't form properly on her upper front teeth as a child and as a result she has a discoloured appearance to these teeth. Rachael was also incredibly unlucky when another of her top front teeth fractured, literally days before the funeral of her husband and soulmate. Rachael bravely delivered a eulogy, which of course is difficult enough for anyone, with a fractured front tooth, which she later had to have removed.
Rachael's story and the fact that she continues to put other peoples needs ahead of her own made the Pure Team believe that she was truly deserving of the opportunity to get her dream smile for free.
Creating a smile that Rachael could be proud of involved a number of different processes.
Initially spending time with our hygienist, Rachael's oral health was improved, ensuring that the foundations for the dental treatment she needed were good. She was also equipped with the skills and knowledge to maintain a healthier mouth, which is particularly important when dental treatment is planned.
A combination of composite build ups on her healthy but discoloured front teeth and the placement of dental implants in the spaces where teeth were missing helped to restore Rachael's smile without the need for a denture.
As we all know, visiting the dentist is nobody's idea of fun, and many people, like Rachael, suffer with dental phobia/anxiety. Fortunately, at Pure Dental Health, we can provide conscious sedation for anxious patients and Rachael experienced this during some of her more invasive treatment appointments.
After replacing an existing but failing filling and a short course of tooth whitening, Rachael's smile was transformed!
We hope that now, Rachael will be able to smile and laugh without worry and that she doesn't ever have to explain the appearance of her teeth to the children she cares for again.
Julie's nomination from her loving daughter, spoke volumes to the team when we read her story.
Julie is clearly very important to and loved by those closest to her, including her children and grandchildren, she was described as 'their rock' in the nomination we received.
Julie was a heroin addict but successfully got clean and has remained so for over 10 years now. Sadly, Julie's teeth and oral health suffered terribly as a result of her addiction, but Julie has always said that it is just part of her punishment for being an addict.
Julie clearly has a great deal of strength and determination and has done an incredible job turning her life around, and she always puts others needs before her own. She routinely takes care of her Mum and is always helping out family members.
The team decided that Julie IS deserving of positive changes in her life and knowing that Julie would never believe that she is worthy of something as wonderful as a new smile for free, we didn't hesitate to agree that she was going to be one of our finalists!
Changing Julies smile was the easy part, trying to get her to see that she is worthy of a new smile was the difficult part.
Julie had her one remaining tooth removed and was provided with a natural looking set of dentures. Preparation for well fitting, natural looking dentures as well as discussions about the appearance of Julies new teeth took place over a series of appointments, and thanks to our wonderfully skilled dental technicians, she was provided with exactly that!
Julie has transformed her own life and has given so much to others ever since, that it was a fantastic feeling for us to be able to give her something back and transform her smile!
Tracy is seen as an everyday hero, not only by her family but also by her colleagues and patients too, who, ironically call her 'smiler'!
We received a wonderfully heartfelt nomination from Tracy's daughter, who said that she wanted to be able to give something back to her beautiful, strong and determined loving Mum, Tracy, to let her know how much she is adored by her family and how grateful they are to have her. She also wanted to do anything she could to help boost Tracy's confidence.
Tracy escaped domestic abuse and focused on improving her children's lives, supporting and helping her son, who has a rare medical condition, to finish his education, whilst she was working towards a nursing degree.
Tracy's hard work paid off and she is now a fully qualified, and well-liked nurse, an achievement that her children are incredibly proud of!
The goal set by Tracy's daughter was for the patients that Tracy helps every day to see a genuine beaming smile from her at the end of the day, instead of the fake smile she has learned to show, which hides her teeth.
Tracy has undergone orthodontic treatment, aligning her top and bottom teeth, to give her teeth a straighter, less crowded appearance. Straighter teeth are also much easier to look after! Prior to and during this treatment Tracy has seen our hygienist regularly, who has not only improved Tracy's oral health and hygiene but has also taught Tracy how best to take care of her teeth and gums throughout her orthodontic treatment and beyond!
With the orthodontic work completed, all Tracy had left to do was some restorative cosmetic work, replacing old worn out crowns and re-building worn teeth using composite filling material as well as ensuring that her oral health and hygiene is maintained.
The positive impact that having a smile to be proud of has had on Rachael is clear for all, including her patients, to see!
We're so glad to have been able to give something back to somebody so dedicated to caring for others!
The final video - Catching up with Tracy in 2022
A Few Words From Principal Dentist Mark Durnall
It's been a very strange few years since we started our second dream smile competition. We would have liked to have finished everyone's new smile already, but sadly this was not meant to be. The Coronavirus pandemic had a big impact on all areas of life and due to the necessary lockdowns and restrictions that we all experienced, the treatment that we were carrying out for our winners was delayed to some extent.
We are confident that by the beginning of 2022 we should have completed the work required to give all 3 winners their dream smiles!
We have so many people to thank for their involvement in the treatment that our winners received, from our laboratory technicians to suppliers. Their skill, generosity, and dedication to provide the highest standards of dental work possible is very much appreciated by Pure.
The team, as always has pulled out all the stops and it was great to be able to involve all of our dentists in providing the care and treatment needed to all 3 of our 2020 winners.
I would like to say a massive thank you to the dentists and the rest of the team for their involvement in the Dream Smile Makeover Competition 2020. It is something that I know we all feel privileged to be able to take part in!
We love giving people the opportunity to win the smile of their dreams, so, we're going to do it again for 2022! Keep an eye out on this page for an announcement.
---