CBCT Scanning Facilities at Pure
Pure welcome referrals from dental practitioners for our CBCT scanning facilities here in Truro. We operate a Morita Veraview X800, conveniently located at ground floor level and accessible to all patients including disabled and elderly users.
We can provide an image volume of:
40 x H40 – (2 molar teeth/3 anterior teeth) Standard or Endo mode
40 x H80 – Bitewing (Upper and lower x 2 teeth)
80 x H40 – Full arch upper/lower (small arch)
80 x H50 - Full arch upper/lower (small arch)
100 x H40 - Full arch upper/lower (standard arch)
100 x H50 - Full arch upper/lower (standard arch)
100 x H80 – Full mouth/upper and lower
Even though 3D X-rays are increasingly becoming established, in many cases 2D imaging still has a rightful place and we welcome referrals for an OPG to be taken.
With the Morita Veraview X800, MORITA has redefined top-class X-ray combination systems. Outstanding image quality for panoramic and 3D images ensures a precise and reliable diagnosis even in the most demanding cases.
The extremely high resolution of more than 2.5 LP/mm at 10% MTF and a voxel size of 80 μm show even the smallest details. In addition, a wide range of innovative functions provide the greatest possible reliability in treatment planning.
Veraview X800 also sets new standards with respect to the ALARA principle. Related features help to achieve the lowest radiation dose possible while maintaining exceptional image quality.
Another unrivaled feature is the design and operational functionality of the Veraview X800, for which it received the IF Gold Award. Overall, the Veraview X800 sets a new and unique standard: "Total Performance Imaging". It is the combination system of choice for a sustainable increase in diagnostic competence, diagnostic reliability, and treatment success in the dental practice.
Pure Are Able To Provide You With The Following Digital Images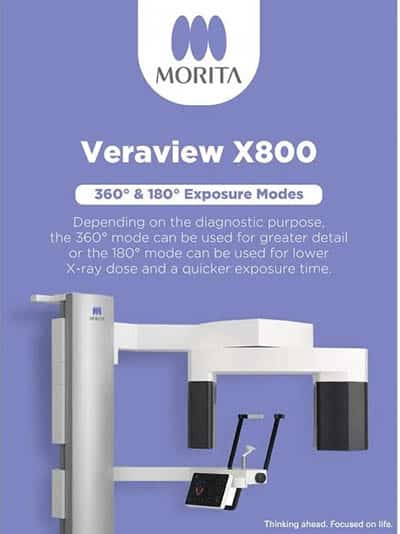 The cost of a CBCT scan is £220 (optional radiology report included). For a small scan (40 x H40 (2 molar teeth/3 anterior teeth) Endo or standard mode), the fee is £78 without radiology report, and £220 with a radiology report.