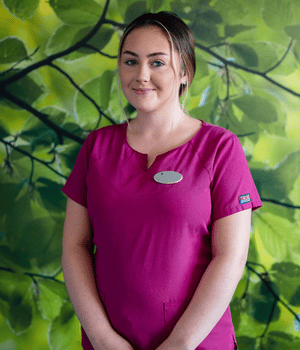 Megan joined the team at Pure Dental Health in April 2022. Initially, Megan worked part time as a member of our reception team and was working and training as a dental nurse in another practice.
Megan enjoyed being part of the team at Pure so much that she decided to join us full time, she is continuing with her dental nurse training and feels that she is very well supported in her learning and training by the whole team here at Pure.
Megan's dental career started at the peak of the Covid pandemic, so her training and experience was very different to normal at the start. Despite the difficulties that came with the pandemic, Megan stuck to her training as being a dental nurse is something that she is passionate about.
Megan is particularly interested in learning more about orthodontics and is keen to continue with her learning after she gains her dental nursing qualification next year. Megan's favourite part of being a dental nurse is reassuring and comforting nervous patients and doing all that she can to help exceed patient expectations!
Megan loves working with the rest of the Pure team and says that everyone made her feel very welcome and it's great to be part of such a friendly and professional team.
In her spare time, Megan likes to spend time with her sister and young nephew. She enjoys going to some of Cornwall's beautiful beaches, Marazion and Gwithian being two of her favourite ones! Megan enjoys drawing, which she thinks stems from happy times that she spent painting with her Nan when she was growing up, drawing helps Megan to relax and switch off from her studies!
Joined Pure Dental Health
Joined Pure Dental in 2022 as a Trainee Dental Nurse.