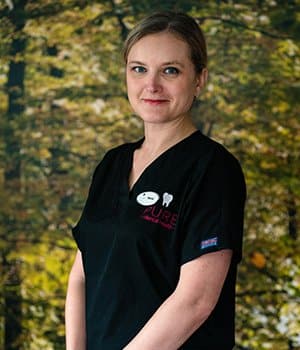 GDC No: 249946
Wiola graduated from the University of Plymouth, which is a premier Dental School in UK, with a qualification in Dental Hygiene and Therapy in 2019.
Since qualifying as a Dental Therapist and Hygienist, Wiola has worked in both Private and NHS practices where she has gained a variety of dental skills, including providing restorative and periodontal treatment for adults and children.
Wiola is particularly passionate about providing the best care possible for patients, she is proud to provide the highest standards of treatments and has a strong focus on prevention of dental disease.
Wiola also has a keen interest in non-surgical periodontal therapy, paediatric and cosmetic dentistry as well as minimally invasive techniques where possible.
Wiola says that she is very excited to be a new addition to the practice and to be able to work with such an inspiring team!
In her spare time Wiola enjoys spending time with her family and her much-loved dog and cat.
Qualified as a Dental Therapist
Graduated from University of Plymouth
Joined Pure Dental Health
Joined Pure Dental Health as a Dental Hygienist.